WordPress is getting bigger and bigger and more people build their websites with WordPress instead of learning code or hiring someone. One of the best parts of using WordPress is their great plugins but their is a problem how do you find great free plugins and not just plugins that are free but make you upgrade to unlock all the good stuff. So below is the top 25 plugins I gathered for you I hope you enjoy these plugins as much as I do.
1. Pretty Links 
This plugin is great if your into affiliate marketing like me.
What does this plugin do?
It lets you shorten and cloak you links or affiliate links like below:
my amazon eBook normal link: http://www.amazon.com/dp/B00W0R1ZYQ
link used with pretty link: http://9to5no-more.com/30-seconds-website
and it gives you a shorter link with your domain name. What else is cool about this plugin is that it allows you to update your link so if your link changes you wont have to track down all the places you used the link to update it.
The plugin also allows you to track how many clicks you got on that link and gives you a very detailed report.
Click this link to see a full review
2. Contact Form 7 and Formget
I have personal experience with both and they are really great plugins but hard to choose between. So I am going to break both of the plugins down for you.
The contact form is very easy to set up and it is even compatible with Ajax. It also lets you manage more than 1 contact form. This plugin also is very compatible with other plugins and themes.
This is the contact form I use here on 9to5 and I use it because it has a nice visual look and it has a lot of preety cool extensions like being able to collect email for your email list like aweber, mailchimp, and more. They also have some other really cool extensions like analytics, team management and way more you can check out the extensions here.
They also allow you to manage more than one contact form and you can also make cool popups on pages that allow you to collect emails and more.
A couple things I don't like is that a lot of other plugins and themes don't support formget.
3. Disqus Comments
Disqus is the comment system I proudly use and I use it because it helps create a more social community and lets you create a very interactive comments system. One of my favorite things about Disqus is that it cuts down the spam comments.
Click here to see the full report about how and why I use the Disqus comment system.
4. Wp Smush it
This plugin is great because it helps reduce the images file size of all the images on your site, and  it also helps make your website run a lot faster.
5. Buddypress

Buddypress is a great plugin if you want to create your own social network or your own community. They also have a lot of great extensions you can add to make buddypress even cooler.
6. WP Maintenance Mode
Out of all the maintenance plugins their are, this one by far I think is the best because they allow you to collect emails for free and you don't even have to have a email provider like aweber. It also allows you to have links to your social media accounts. This plugin also has a awesome live countdown that you can setup and choose the time and date you want your site to go live. One of my favorites is that they give you a nice looking contact form so people can contact you on your maintenance page and the best part of all this is you get all of this for free.
7. NextGen Gallery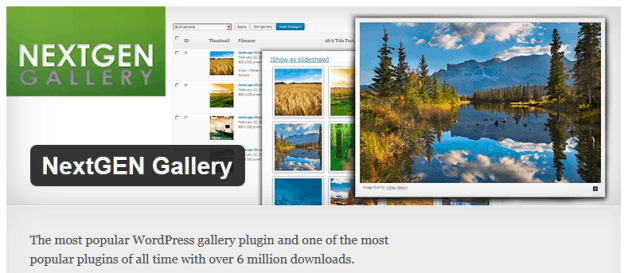 This plugin allows you to make a image gallery in any of your posts and pages. It is also one of the most downloaded plugins on the WordPress plugin directory.
Check out my tutorial on how to setup this plugin
8. WooCommerce
Woo is one of the best WordPress eCommerce platforms i have ever used because it is  free and very easy setup and start selling your own products with it. It also has so many awesome extensions to make it even better.
9. Easy Digital Download
Is great if you mainly just want to sell digital goods and products like themes, plugins, eBook, ect They also have so many features and extensions like woocommerce.
10. All in one SEO
This is a great free plugin because it helps improve your SEO on your site which in turn will help you rank a lot higher on search engines. The plugin also lets you create sitemaps and also index's your site into google.
11. Digg Digg
Digg is a plugin that lets you display a floating bar on any side of your website that allows your visitors to share your website on any social media platform such as Facebook, twitter, etc
12. Side Kick 
If your a noob with WordPress and are just starting out then this is the plugin for you. This plugin gives you video tutorials you can watch and learn but that's not all it does it also gives you helpful narrations on your WordPress dashboard to help walk you through of what to do. It also comes with walkthroughs for supported plugins and themes.
13. SEO Friendly Images 
The web is getting bigger and bigger with more sites and pages being created everyday. What if there was a plugin that helped get you more traffic and get noticed by the search engines. That is were this plugin comes in, this plugin adds your posts title to all of your images in the post or page to help boost that post or pages SEO. So simple but so useful.
14. Ultimate No Follow 

This plugin also sort of helps with your sites SEO what it does is it lets you decide which links to let google follow ad which ones that should be a no follow such as affiliate links.
15. Short Codes Ultimate 
This plugin is great if you want to add some really cool visuals to your site like animated buttons, tables, lines and so much more. The best part is that this awesome plugin is free.
16. Free Version of Social Locker
Now the pro version offers a lot more features but the free version is just as good. Now what it does is it allows you to cover a specific part of a post or page with a box that makes the visitor like the page to view the content. Now there pro version makes your visitors share instead of just liking and they also allow you to change the style. You can check out the pro version here. I highly recommend it cause there is definitely not many other plugins like it.
17. WP-Polls
This is a great and free way to survey or just ask your community questions. It is easy to make polls and is very customize-able you can even customize the polls color.
18. Easy Quiz Player 
This is a great way to make your own game or quiz for your website. The plugin has 5 different question types, it also allows you to have video questions, social media challenges, and so much more. The best part is the whole plugin is free.
19. Social Network Auto Poster
This plugin is great if you want to have stuff automatically post stuff on your social media accounts, what it does is when you publish a new post on your site it will automatically make a post on you social media accounts about that new post. They also have a pro version that allows you to post on more than one account per social network.
20. Video Thumbnails 
This plugin makes it easier to display a video thumbnail for your posts. They support video providers such as YouTube and vimeo.
21. BackWPup
Now i personally think this is one of the best WordPress backup plugins out there. One of the reasons i like it so much is because it allows me to schedule when i want the plugin to automatically backup my site and were i want them to put the file, which you can get it emailed to you which i think is a cool feature.
22. Limit Login Attempts
Even though this plugin hasn't been updated for almost 3 years now it is still very useful. So what this plugin does is it helps protect your site by limiting the login attempts to your website.
23. Akismet
If your not using Disqus then you definitely want to get this plugin so you don't have to deal with all those annoying spam comments.
24. WP-CopyProtect
If your afraid of people trying to copy and steal your websites content then this plugin will help put you at ease. The WP-CopyProtect will help you because it doesn't allow the selection of text and you can also disable the use of the right clicker. The best part is that it doesn't affect your blogs SEO.
25. upPrev
Get people to stay on your site even longer with this plugin. This plugin when activated will display a awesome fly out or fade in box with relevant posts and content on your blog like the New York Times does.
Hope you guys found these plugins useful, I would love to hear what plugins you guys use on your site, talk to you guys later.
Branden